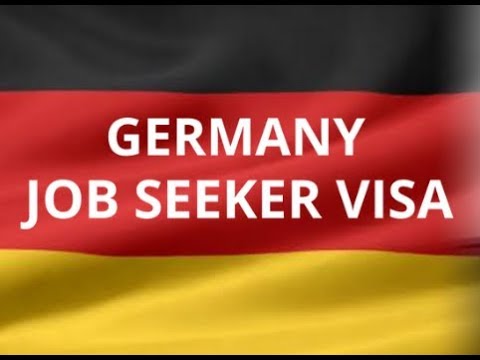 If you are seeking cross-cultural experiences and wish to pursue a career in your field of interest in a foreign country, Germany might just be there on your list. 
It has tons of industries which are growing exponentially every single day. With this immense growth ratio, Germany is looking out for skilled professionals. They are offering well-paid jobs to those who deserve it, be it be a foreign candidate or a local resident.
In order to land up one of these amazing jobs, one needs to apply for a "Job seeker visa" in Germany. This visa allows the candidate to stay in the country and search for a job till 6 months after which your visa will expire.
There are some specific things that you should keep in mind before applying for this visa, in fact, these are crucial to your application and are the deciding factors whether or not will you get it.
Educational Background
Germany offers free education to its residents and some immigrant students as well if they get good scores and selected for public universities. With almost zero to negligible investments in education, it proffers a high ROI (return on investment) by giving well-paid jobs to candidates.
If you have studied from a German university, you will get around 18 months to find a job, after which you will apply for an EU card or simply known as a work permit. Once your work permit is approved, only then can you start working and get paid for it.
However, if you are from a foreign country and has studied there, you will have to apply for this job seeker visa in Germany and prove your skills to them to attain it.
Did you know that your SOP carries upto 70% weight-age in the admission process? If you want to ensure that you have the highest possible chance of success with your application checkout our
SOP Writing Services
to work with the best experts! Honest prices and delivery guaranteed.
For a job seeker visa in Germany, one needs to have a Bachelor's/Master's degree from either a German university or a foreign university. Before applying for this visa, you need to check if your degree is even considered valid in Germany or not.
Remember that there are only a handful of courses and universities which the German education curriculum recognizes. If your degree is not valid there, you will probably have a tough time getting this visa.
Work Experience
A freshman straight out of college with zero experience is not eligible to apply for this visa. You need to have a solid work experience in the field of your study for a job seeker visa in Germany. They hire only skilled people with relevant work experience.
They are pretty uptight about these procedures because they want to ensure they are not depriving their own country's people of employment and good opportunities. Nevertheless, they pay extremely well to those whom they consider fit for the jobs irrespective of the candidate being an immigrant or a local resident.
So, money really isn't the issue, the tricky part is to land up a job and get that offer letter in your hand!
You need to play hard to get if you want to get a job seeker visa in Germany.  
Having a multinational company in your resume will definitely boost your application. However, you should not worry about certifications, published papers or company awards much. They do add some weightage to your resume but they don't completely do justice to your skills and knowledge. It is more or less how much hands on you have done in real life rather than theoretical knowledge.
Financial Conditions
Like any other country, Germany too believes that an immigrant job seeker must have the requisite funds to support themselves during this 6-month period when they will go on for a job hunt. They want the candidates to be financially independent with a strong fiscal background i.e no debts or student loans.
For a job seeker visa in Germany, you should have at least 720€per month for that duration. Now you know that if you have future plans for Germany, you need to save a lot before moving there. Because having insufficient funds or low income in your home country can adversely affect your application and be one of the reasons why you might get rejected.
Precaution is always better than cure.
So, before you apply for the job seeker visa, make sure you have your previous balance sorted out.
Travel & Medical Insurance
One last but important requirement for you to fulfil for a job seeker visa in Germany is having a travel and medical insurance. They expect immigrants to have their health insurance cover them up in case of any unforeseen accidents take place during the 6-month visa period.
With that all being said, you can conclude that Germany literally wants the immigrants to be as independent as they can be. They want them to take up their own responsibilities rather than becoming a liability to the country. Rewards and appreciation for your hard work and a good resume are given in the form of handsome paying jobs, but the struggle is real.
Required Documents
If you plan to apply for a job seeker visa in Germany, these are the required documents you should carry with yourself.
A valid passport (issued in the past 10 years and valid for at least 12 months after your scheduled return)
A copy of your passport's data page
3-4 passport size pictures with biometric specifications
A cover letter where you explain the objective of your visit, how you plan to find employment, and your alternative career plans if you cannot find a job
Diploma of your degree (or any other proof of academic qualification from a German or non-German university) as well as any certificates of previous work experience
Your detailed Curriculum Vitae (CV)
Proof of accommodation in Germany (where you will be staying during your visit)
Proof of financial means to cover the costs for the time of your stay in Germany by showing one of the following documents:

Formal obligation letter by a sponsor living in Germany
Bank account statement
Blocked bank account

Proof of personal status in your home country, such as birth certificate, marriage certificate, and others (translated in English)
Proof of your health and travel insurance.
Make a checklist of all of the aforementioned documents so that you don't leave out on any. Also, let us know in the comment section below if you have any experience with the "Job seeker visa in Germany". ?