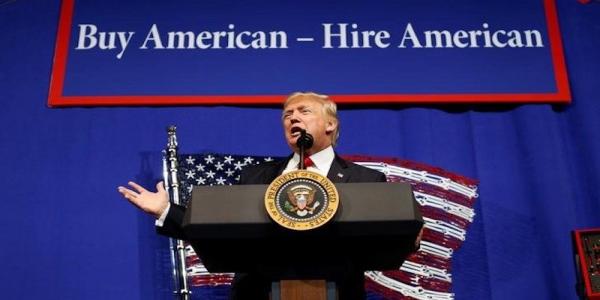 Trump has taken over the H1B and F1 Visa quite prominently, it has created a havoc for international students seeking to study in the United States and more so for the employees who are serving in myriads of IT companies already. The changes in the H1B immigration status has affected people on the personal and professional, both the fronts. Let's take a quick view of how Trump has changed things around and beset foreign employees by major problems. 
What exactly has changed in the H1B Visa process?
People have been adjusting to the new climate now, things have changed and become more difficult. Breaking the whole new system in 5 different points, we will be discussing every aspect of the H1B Visa. 
Marriage and people separating
Oh, it is not that people willfully wish to separate from their partners but the new H4 Visa rules and the H1B changes combined, are affecting personal relationships aggressively. This goes specifically for the engineers who were flooded in the United States in companies like Accenture, TCS, Wipro, Cognizant.
In countries like India, a software engineer with a bright future of going to the United States was once believed to be the most eligible bachelors for their lovely daughters but time has changed. Trump has made tighter policies on the spouse H4 Visa which has not only restricted but almost ceased the chances of them going with their partner.
Decreased number of grad applicants
Young students with strong aspirations of going to the United States for their higher education has come crashing down. Trump has spoiled the after-life which the little young students craved for; a well-paying job, a settled life and a permanent resident status in the United States.
He has made it pretty evident that even if you graduate from an Ivy League, it is not essential that you get a chance of working with big tech companies. As a matter of fact, stats have shown a great decline in the number of F1 Visa that got approved.
On the other hand, this comes as a dreadful news to the American universities because immigrants pay much higher fees as compared to their American counterparts resulting in a great financial loss and instability for years to come.
Canada receiving more tech workers
Countries other than the United States are still welcoming and accepting international students with arms wide open. Canada, Germany, the United Kingdom and Australia are the most considerable ones with substantial universities proffering amazing scholarships and undergrad courses.
Admissions for Indian citizens in Canada rose from 9,584 in 2016 to 26,340 in 2017. Out of the total 86,022 applications for the permanent residency, 42% were from Indians, followed by China (9%), Nigeria (6%) and Pakistan (4%). And Canada proudly claims to give out around 177,500 migrants a permanent resident status in 2018, 191,600 in 2019 and 195,800 in 2020.
Service-Based Companies facing a huge decline in outsourcing resources
Earlier, companies like Tata Consultancy Services Ltd., Tech Mahindra Ltd., Cognizant Technology Corp. (CTSH), Infosys Ltd. (INFY), Wipro Ltd. (WIT) and Accenture Ltd. were pouring foreign students in the United States. Be it be an averagely skilled engineer or a hard-core coder, it was easy to send out people to the United States.
Trump addressed to the fact that the H1B Visa was originally introduced to help the American business firms to muster the best skilled and talented professionals, not laymen with an average IQ, depriving the native American citizens of potential job opportunities.  This has made a bold impact on the economics and employment ratio of Americans, although this is not visible from a 35,000 feet view above when you look at America.
This has however turned out to be beneficial for American high-profile tech giants like Apple, Facebook Inc., Microsoft, Intel Corp., Amazon.com Inc which rose their approvals for the immigrants.
Jobs for international students is declining
The National Association Of Colleges And Employers found that the employers have declined their rate of selection for international students. Sponsoring the H1B Visa is no less than a burdensome job in itself. Increased legal implications and strict policies in giving solid proofs as to reason their choice of hiring an international student has pushed the employers quite far. This has been an upsetting news to all the young aspirants seeking out for jobs in their OPT duration, a monetary loss often leaves these students broke.
The H1B has caused a tremendous change in the education system for many students, on one hand, it is giving higher hope for American engineers to get better jobs but depriving the international students of getting even a bare minimum one.
Many people are flying back to their home countries in search of jobs, in fact, this is their only and the best option available considering the current scenario in the United States. If you are someone who had plans to take your spouse along with you after marriage to the United States, you might have to rethink on that one!
However, applying to other countries for jobs and even undergraduate programs is a good option. If you are still stubborn enough to get into the United States, make sure that you work hard enough and specialise in an in-demand skill, create dependencies on yourself, make it worth-while.
Did you know that your SOP carries upto 70% weight-age in the admission process? If you want to ensure that you have the highest possible chance of success with your application checkout our
SOP Writing Services
to work with the best experts! Honest prices and delivery guaranteed.
Few upsides of the new H1B Visa System:
Companies were hiring international employees in bulk and were using them to get their work done at a much cheaper rate than they would have paid to their American counterparts. Trump has assured a significant rise in the salaries of international employees if they are selected by a tech company and have the requisite skill which is not available in the American market to that good of a level.

The new policies do not affect students who wish to apply for masters and PhD, but the job opportunities will be a problem for them as well.
Be a better judge at deciding your future, you can read on to know more about opportunities in Germany, Canada and other countries sponsoring work-permit Visas and Student Visas as well.