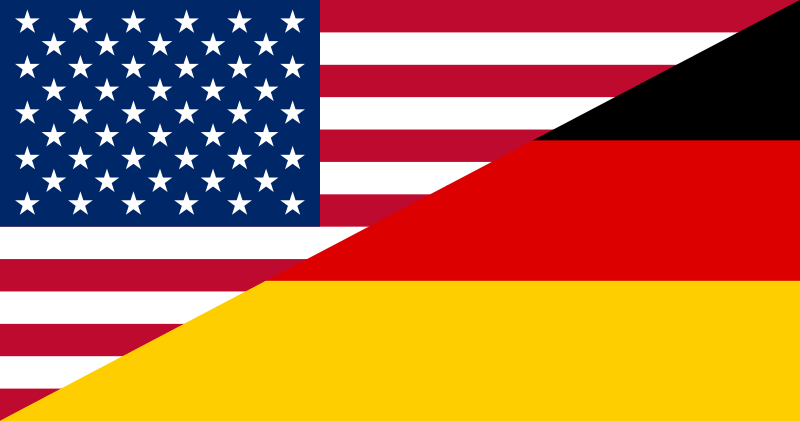 Confused if you should apply to the US or German universities for your undergrad program? Maybe you want to pursue a Master's or a PhD and wondering which country would suit you best. Well, we have jotted down the major deciding factors for you which will help clear your mind and make a rational decision for your future.
Course Options
US
Engineering, MBA, PhD, IT, Computer science, Electrical engineering, Biotechnology, Nutritional Sciences, English Literature, Biomedical Sciences are the most popular and rewarding courses in the United States.
Germany
Germany focuses more on the automobile industry and thus provide automobile engineering, Computer Science Engineering, Civil Engineering, Mechanical Engineering, and Life Sciences.
Scholarships
US
The United States has some amazing scholarships which could potentially cover 80% of your tuition fees and make life easier as a student in the country. Here is a list of the top most scholarships available in the United States:
Inlaks Shivdasani Foundation Scholarships

Asian Women Business Scholarship Fund

Stanford Reliance Dhirubhai Fellowships for Indian Students

Full-bright Nehru Research Fellowships

Tata Scholarships at Cornell

East-West Center Graduate Degree Fellowship
Germany
Around 16 states in Germany abolished tuition fees for undergrad international students leaving out only the administration and other charges to cover. There are a number of scholarships you could try for:
Development-Related Postgraduate Courses (EPOS)

Semester Scholarships for Students of Indian Institute of Management (IIM)

IIT Master Sandwich Scholarships

Helmut-Schmidt-Programme

Study Scholarships for Foreign Graduates in the Field of Architecture

Working Internships in Science and Engineering (WISE)
Fee Structure
US
Studying in the United States is an exorbitant affair which can cost a fortune to some students, the fee structure usually lies between $20,000 to a whopping $60,000 per year which is exclusive of food, accommodation, travel and other expenses.
Germany
As discussed above, you can study at a public university in Germany with almost zero tuition fees, but you will have to pay for the enrolment, confirmation and administration charges which will cost no more than €250 (US $290) per semester, but this varies with every university. However, private universities have their own individual fee structure which typically ranges from €20,000 to €50,000 a year. 
Visa Process
US
A full-time student visa is called the F1 for which a personal interview and verification of documents, college admission and other formalities are mandatory. You can stay up to 60 days beyond the completion of your course unless you have a permit to work for a period of time under the OPT (Optional Practical Training). Also, you are restricted to only work for commercial college services such as the cafeteria, bookstore, etc.
Germany
To stay in Germany for more than 90 days you need to get a residence permit which is not easily available to scout out. However, it gives you the flexibility to work part-time in a technical industry related to your course (the only country who allows this). The residence permit is valid up to 2 years only, after which it has to be renewed.
Cost of Living & Accommodation
US
The cost of living in the United States is somewhere in between $10,000 to $12,000 per year. This entails your books, accommodation, travel expenses, clothing, other entertainment expenses as well.
Germany
Finding an accommodation in Germany is a tough job, you will have to adjust and compromise on a lot of things for the right budget and facilities. It costs around €10000 per year, however, this can invariably differ for larger cities.
Culture and People
US
You will find a mixed culture in the United States and experience different things from the Americans. It basically all depends on the college you study at, the people you hang out with and the way you respond to compliments and criticism. But they are pretty resistive with the Muslim culture and its people, other than that you will face racists off and on. Owing to the latest developments and the most liberated country in the world, it offers multiple choices to students for their entertainment and teaches them a way to live life fully.
Germany
If you do not speak fluent German, you are ought to face heavy racism, even when it comes to job opportunities and interviews, there are a lot of biased decisions made only on the basis of you being a non-German student. There are many restrictions with accommodations which limit and prohibit students from enjoying their study life to its best.
Work Permit Availability
US
With the recent changes in the F1 and H1B Visa, it is becoming more difficult to get work permits. However, if you are lucky enough you can get a 12-month period OPT under which you can work part-time and learn about your field deeply and search for jobs simultaneously. Make sure you study hard in your program and land up a job either on-campus or in the given OPT with a reputed company who is willing to help you out with the further documentation processes regarding your Visa extension.
Germany
You can apply for a residence permit after the completion of your education from a German university, this will allow you to stay up to 18 months and search for a job in your relative education branch. Supposedly, you already get a job on-campus before you even complete your education, you can directly apply to the EU Blue Card.
Employment Opportunities
US
There are many job opportunities for an international student in the United States which pay a good amount of money. Marketing, IT, advertising, Finance, Software engineering, Business Analysts, Research and Development work are the topmost jobs in the United States.
Germany
Germany has jobs in the sector of health science, automotive and mechanical industry, architectural industry, electrical and electronics industry, etc.
Did you know that your SOP carries upto 70% weight-age in the admission process? If you want to ensure that you have the highest possible chance of success with your application checkout our
SOP Writing Services
to work with the best experts! Honest prices and delivery guaranteed.
Both countries are the leading ones in the educational sector, there are absolutely no doubts about the quality of education. Look out for what is your priority, is it the fee structure or the culture or the work permit availability and choose the most suited option.