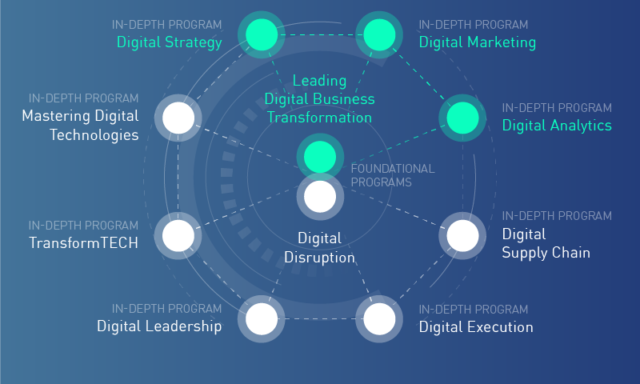 With the demand for big data and analytics talent, several business schools are now offering Masters in Business Analytics. The growing popularity of the Analytics programs has triggered doubts in many students and seasoned professionals whether to go for MBA or Business Analytics. There is also a section in the crowd who are kind of in dilemma with choosing between MS Business (Data) Analytics and MS Data Science. Then there is a large majority of folks who are unable to decide if they should go for an MBA in India or an MBA abroad. Finally, there too many overwhelmed brains amidst this entire buzz of big data analytics and the competitive job market. So, I would try to answer all those major queries to give you peace of mind. Just bear with me!
The fourth industrial revolution is marked by technological disruptions (big data, machine learning, artificial intelligence, robotics, IoT), digital transformation in business models, and unprecedented opportunities for innovation. It's not only about web searches, social media, mobile data, text messages, images, videos, and posts. The volumes of remote-sensing devices, software logs, cameras, microphones, radio-frequency identification (RFID) readers, and wireless sensor networks are also growing with big velocity. These changes are not only presenting challenges to the business organizations but also forcing the business schools to reboot their programs.
Re-Engineering of MBA Curriculums & Birth of MS Business Analytics Programs
INSEAD introduced several changes in its 2017 MBA program. Apart from modules on personal development and online learning tools, they also put emphasis on covering areas like Big Data and FinTech in the 10-month MBA program. In 2016, Wharton introduced a new major – Business Analytics, within its MBA program. Besides traditional courses like Business Economics, Marketing, Operations, and Statistics, the MBA program also covers Big Data, Analytics for Revenue Management, and FinTech. Additionally, the business school is also leveraging the delivery of e-learning and flipped format.
Though the massive makeover of the MBA programs in the last 2 years, the process actually started back in 2013-2014, just around the time when big data and analytics started trending. But, make no mistake; the changes are not just to follow the trend. Today the businesses need professionals and managers with big data and business analytics skills.
Professionals and graduates need to have specialist skills in order to make sense, see patterns, draw conclusions from the big data. Additionally, they need to visualize the data and engineer solutions for driving business and profits. So, the big shot companies are collaborating with the business schools extensively on designing the curriculums of the business programs.
The majority of large corporations and start-ups are leveraging business analytics to exploit data-driven advantages. Due to the business demand, an increasing number of business schools have begun to offer Masters in Business Analytics and MBA programs with Big Data or Business Analytics specialization. The rise has largely been driven by the demand of the tech companies in the Silicon Valley and American Business Schools. But, the European schools are also not too behind.
HEC Paris is one of the first business schools in Europe to introduce the MBA program with a strong focus on big data skills, in alliance with IBM. The Said Business School (University of Oxford) and Imperial College London also collaborated with IBM and Huawei respectively, to introduce big data training in their MBA programs. In fact, IBM partnered with more than 200 business schools around the world, to design and develop its MBA and business analytics programs. Companies like Deloitte, Booz Allen Hamilton, GE and many others are also following the same path. No wonder, the business school and industry partnerships are emerging as a dominant education model.
Old School MBA is Dead
More often than not, the majority of the not-so-elite colleges in India are still conservative with a sense of a 'bottom-up' dominated culture. Innovation is always a key driver of a good MBA program and is only feasible in a college with less bureaucracy. Likewise, a diverse class is also very critical. If you are in a class with senior executives and folks with lesser work experience, you will develop a lot of perspectives. In India, getting admitted to an MBA program has become too easy, and the majority can get admission without work experience and/or qualifying standardized tests like GMAT, CAT, or XAT.
MBA Job Market
The current job market has been shaken tremendously by technological disruptions. The current job market is like what the Newlands pitch (Cape Town) to the Indian batsmen in front of the Fearsome Foursome (the pace quartet of the South African Cricket Team). An ideal MBA program should equip you to survive in such a fiercely competitive job market. India or abroad, it would be hard to get proper MBA jobs (not the 10K/month ones – no offence) without expertise in data and business analytics. McKinsey & Company looks for MBA grads who understand the science behind decision making. Understanding of data and implementing analytics to find pragmatic solutions to problems is crucial for job applicants eyeing Bain & Co and BCG. At present, Data Analytics is certainly the most desirable skill for MBA employers. So, focus on acquiring the right skills set and gaining work experience through internships to get started.
MS Business Analytics vs MBA with Business Analytics
Given the rising popularity of MS Business Analytics programs and increasing industry demand of business managers who are trained in Analytics, business schools are re-engineering the MBA programs. Many US schools are also launching STEM-MBA or MBA with Business Analytics concentrations. However, several candidates still face the confusion of whether to choose MS Business Analytics or MBA with STEM designation (e.g. MBA with Business Analytics or Big Data specialization or electives). 
MS Business Analytics vs MBA with Business Analytics Concentration: Curriculum
MS Business Analytics focuses on developing an understanding of the performance of a business and creating new insights based on statistical analysis, predictive modeling, and so on. On the other hand, an MBA is inclined towards searching and learning scientific approaches to management.
MS Business Analytics is more technical in nature. It concentrates on enhancing your domain knowledge of Python, SAS, SQL, Hadoop, R, data visualization (Tableau), etc. MS Business Analytics does not involve too much coding as opposed to MS Data Analytics or MS Data Science. Business Analytics is inclined to on deriving an analysis of data to act accordingly and MBA focuses more on business planning, expansion, and improving management.
MS Business Analytics vs STEM MBA: Objectives and Ideal Candidates
MS Business Analytics is entirely focussed on theoretical and practical aspects of business analytics. It also offers hands-on experience using machine learning, software engineering and predictive modeling to solve business challenges. It's ideal for individuals with technical backgrounds who are interested in developing mastery with data science techniques for practical applications.
In an MBA program, Business Analytics is typically offered as a concentration or specialization. Advanced analytics courses are more theoretical and focus on the broad application of data analytics to improve business outcomes. The specialization within an MBA program typically discusses the broad application of data analytics to improve business outcomes. It's suitable for folks with business backgrounds who want to gain familiarity with data analytics.
Did you know that your SOP carries upto 70% weight-age in the admission process? If you want to ensure that you have the highest possible chance of success with your application checkout our
SOP Writing Services
to work with the best experts! Honest prices and delivery guaranteed.
MS Business Analytics vs MBA: Pros & Cons for Indian Candidates
MS Business Analytics
Pros: Specialization in a technical area, growing area, global applicability, easier to get promoted if good given technical nature of work. It also has the opportunity to work closely with business functions and can move into it.
Cons: You become a specialist, not a generalist. It does not provide general business skilling. Many top schools may not have this. Besides, MSBA does not provide an alumni network as large as MBA programs.
MBA
Pros: If done from a top school, it gives wider opportunity, brand name, alumni network, and ability to apply for a number of jobs after graduation.
Cons: You need more extensive work-ex and need to compete with Americans/Europeans. You should have the ability to look at the bigger picture and need to have good communication to be successful.
MBA vs MS Business Analytics: Duration & Cost Around the World
Other significant factors to consider while choosing between MBA and MS Business Analytics are the program duration and the program cost. Here are a few top business schools in the world that offer both MBA and MS Business Analytics.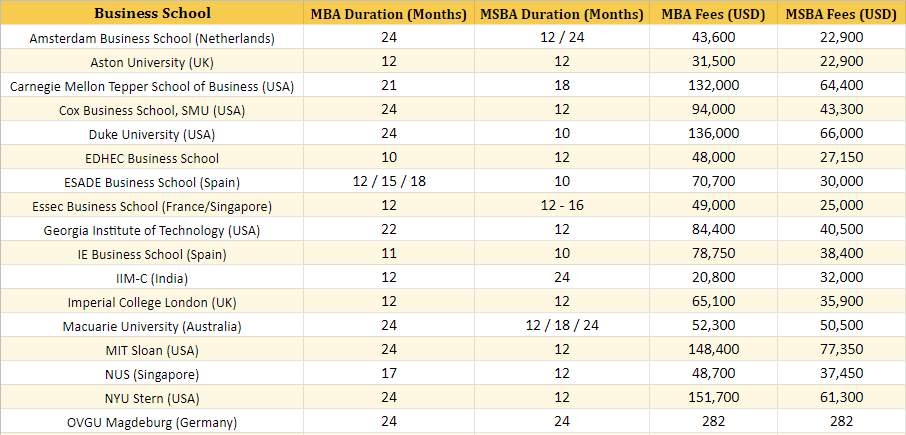 In order to find out more details and differences between STEM MBA and MS Business Analytics, below is the Q&A with Admission Committee (Adcom) at UC Irvine.
MS Business Analytics vs MBA with Analytics Focus: 
"The MSBA program is shorter and more focused than an MBA, targeted at individuals who know from the start that they want to pursue a career in business analytics. The program delves deeper into subjects related to data analytics and is generally more technical than the MBA program. The MSBA program also provides a capstone project experience where student teams work with companies to solve real-world data-analytic problems." – UCI
Q1. The MBA program at UCI is a STEM-designated one now. Could you please share a few key details of the program?
UCI: The Paul Merage School of Business has specifically redesigned our curricula, course content, delivery modes, and co-curricular programs to create unparalleled learning experiences with a single goal: preparing students to propel their careers and lead their organizations to success in our digitally driven world. Our FTMBA degree is now fully STEM-designated, dedicated to deepening student's knowledge and leadership of Management Science and Quantitative Methods. We are also proud to announce our new Analytics in Digital Leadership concentration, built to be directly aligned with specific target functions such as Python, SQL, and managing large data sets.
Q2. Could you please share a few stats about MBA class profile and MBA placements for Indian and international students?
MBA Class Profile at UCI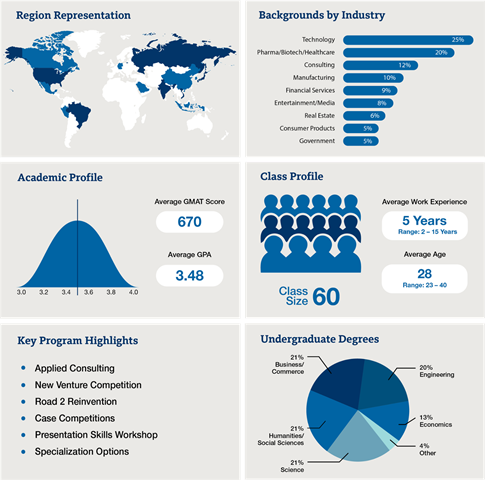 Placements Style
The Merage School Career Management Model is Science-Based, Self-Awareness Led Discovery.
The Career Development office is not a placement service but rather partners with students to offer personalized career services to help them achieve their career goals. Some of the companies our students have obtained employment at include:
Google
Amazon
Experian
Uber
Deloitte
Edwards Life Sciences
MBA Salaries
102,000.00 USD Mean Annual Base Salary
Irvine is home to ⅓ of Fortune 500 companies
113% Average Salary Increase pre-employee to 3 years post-graduation
Q3. Who are the ideal students for the MSBA program at UCI? Could you please share a few statistics about the class profile?
UCI: The Master of Science in Business Analytics Program is one of the most competitive programs to gain admissions. We focus on a holistic approach when selecting candidates from Undergraduate Major, Undergraduate Institution, Graduate Coursework, Work Experience, Personal Statements, Letters of Recommendation to name a few.
We look at each item carefully as we craft a well- balanced class filled with the chemistry that makes the UCI Merage Brand. Ultimately, we look for candidates who know themselves, have a vision for their career trajectory, and have a passion for data.
Living in a digitally-driven environment we want our candidates to have a solid understanding of what it means to use data to influence business decision making.
MSBA Class Profile at UCI
Q4. According to you, how should candidates decide between MBA and MS Business Analytics?
UCI: An effective way for how students should decide which program is the best fit for them is to consider the job they want after the program and work their way back to find the best program to get them there.
The MBA program is a Business Management program that allows students to complete a concentration in Analytics during their second year and provides a unique set of experiences and opportunities that will set them apart and distinguish them as a leader in a digitally-driven world. No matter their background, students will learn to thrive as a leader in a technology-intensive global economy through a combination of innovative coursework, real-world experiences, and career development.
The MS in Business Analytics program is a highly specialized intensive one-year, full-time program that thoroughly prepares students to handle large volumes of structured and unstructured data and apply a variety of analytics methods to the data in different business contexts. The MS in Business Analytics is a technically driven program with a combination of business principles to be applied in either of our flexible curricular tracks of Data, Marketing, or Operations Analytics.
Q5. How could applicants know more about the programs and interact with the faculty members, current students, and alumni of UCI on a more personalized basis?
UCI: Our Admissions staff is happy to set up personal consultations via Zoom or Skype and go over the program as well as any questions applicants may have.
Q6. Do you expect prior strong knowledge/experience in coding and big data for incoming MSBA students? Do you accept candidates from non-quantitative backgrounds with MOOC certifications (and relevant work-ex)?
UCI: Our Master of Science in Business Analytics does not require prior technical experience but we are looking for quantitative backgrounds. Understanding is one of the biggest elements we look for when selecting candidates – candidates can take multiple courses and earn a certificate but do they have a good grasp of the content and are they going to be able to apply it in the classroom.
As an intensive one-year program we also accept candidates from non-quantitative backgrounds and do view certificates they have earned in quantitative fields as evidence of their capabilities. However, we often want to see more than a certificate and look towards courses they may have taken during their undergraduate or graduate study, but work experience is also a good indicator of a candidate's capabilities in technical-based work.
Q7. What are some of the unique courses and learning methodologies for the MSBA program at UCI?
UCI: Many students come with the impression that the field of analytics is fully developed – this is a misnomer. Most companies across the globe are still finding their footing in the analytics landscape and oftentimes they want to run predictive algorithms to gain insights, but more often than not companies do not have proper database management installed as an organizational practice.
One of our most popular courses is database management in which students learn how to set up, maintain, and clean data so that organizations can use it for their business insights. We also have courses in Machine Learning and Natural Language Processing that played a huge role in our Amazon Capstone project for the Class of 2019.
Q8. Could you please provide a few stats on placements and salaries for the international/overall MSBA students at UCI?
UCI: The Career Services office is not a placement service but rather partners with students to offer personalized career services to help them achieve their career goals. We are excited to share that our Class of 2019 had an outstanding reception in the job market with a 90% placement rate and average salaries between $70,000 – $85,000.
Our MSBA students have landed at some great major companies:
Q9. How does the capstone project work at UCI School of Business? Does the school help the MBA/MSBA students to find an organization?
UCI: Our Capstone Project is a product of a fully comprehensive process with our industry partners and our faculty. We source our projects with our industry partners and assess their needs before they meet with our students. Our students then are available to choose amongst the projects available and conduct their analysis and oral presentation through the course of 6 months.
Q10. How do you evaluate the MBA and MSBA applications? Could you please provide a few insights on the review process?
UCI: Our Admission Committee takes a holistic approach to the application process and evaluates all aspects of the application including but not limited to test scores, undergraduate GPA, work experience, and interview.
Q11. What are the scholarships or financial aid options for MBA and MSBA students? What do you look for among international applicants when it comes to scholarships?
UCI: The MBA & MSBA programs offer merit-based scholarships, and the MBA program also has Teaching Assistantships available. Applicants do not need to apply separately for a scholarship, once an applicant submits their application, the Admissions Committee will automatically consider them for a scholarship. Similarly to the admission review process, the Admissions Committee will evaluate scholarships using a holistic approach and will consider an applicant's test scores, undergraduate GPA, work experience, and interview.
Advice on MS Applications and Post-MS Job Search in the US by UCI
Q12. Would you like to give any advice on SoP and essays to the potential applicants?
UCI: Writing a statement of purpose (SoP) essay is truly a personal experience. The biggest advice I have for students is to answer the question. Most students have a preconceived notion that all admissions offices are looking for the same thing. This is simply not the case. I challenge students to view this as an exercise – if you do not want to be assessed through a singular lens, why would you think one statement of purpose can be used for multiple schools? This shotgun approach often fails more than it succeeds. The other piece of advice I would give applicants is to make these essays personal and authentic. Everyone has challenges and struggles and they differ in degree of magnitude. As you write these essays don't lean on those to gain you admissions rather look towards what you can bring to the program, what value are you adding to the cohort, what does your alumni story look like, or how do you envision the program helping you succeed?
If you are looking for a true edge over the competition to gain your place then we are here to provide you the help that you need with SOP Writing and more. We offer only the most highly qualified staff to work with you and always work with you to ensure the best possible outcome. Checkout OnlineMacha's SOP Writing Services.
Q13. Many Indian applicants face problems with recommendation letters. Quite often the referees avoid writing the first drafts by saying either they are too busy or they are not sure what to write. What would be your suggestions for graduate applicants on getting LORs?
UCI: Letters of recommendation are required for both the MBA and MS Business Analytics programs. Applicants who are caught or suspected of writing their own letters of recommendation will be in violation of UC Irvine's Code of Conduct and can lead to a denial of their application. Applicants should allow sufficient time for their writers to write a letter of recommendation and should reach out to multiple writers early in the application process to vet them as well as go over any questions they may have.
Writing a letter of recommendation is one of the most difficult things to undergo, you need to come across as genuine but supportive, informative but subtle, and you want to give them what they need without coming off as overly zealous or dismissive. It's a delicate line to walk, and it's the reason that many people refrain from writing or asking for a letter of recommendation, but the good news is that there's another alternative, and that's our professional letter of recommendation writing service! We've got pros with knowledge and experience writing different kinds of recommendations for different people, and you can count on our team to provide you with the advanced and detailed help you need no matter what!
Q14. Is the fall 2021 application round going to be more competitive for graduate applicants?
UCI: Historically there is a counter-cyclical effect on application volumes for graduate school during a downturn in the economy. The COVID-19 Pandemic and economic impact it has had on the world is different and stating it will be more competitive is speculative. The very facet of our world is changing and how this will affect Fall 2021 is too soon to tell.
Q15. In recent years, Indian & international applicants have had concerns regarding U.S. immigration policies. What are your perceptions of the new H-1B rules and how would you address the applicants' concerns?
UCI: Due to recent U.S immigration policies, the Merage School of Business has made both the MBA and MS Business Analytics programs STEM-designated which allows for up to 36 months of optional practical training upon graduation. This longer duration is attractive to companies interested in providing immigration sponsorship to international students.
Q16. Would you like to share any job search and employment tips for the international students who are going to graduate this year (2020) and in the coming 12 – 24 months (2021/22)?
UCI: The advice I would give to recent graduates and those who will graduate in a year's time is to give more than you ask. This may sound counter-intuitive but students coming out of graduate programs are expecting a yellow brick road. After all they have invested a lot of time, energy, and money into earning a graduate degree.
Give more than you ask – use your new-found skills to support small businesses, charities, non-profits, creating content on LinkedIn or Medium all the while you are conducting your job search. The accolades you will receive from supporting those around you will come back with laurels of your work that may land you a job. Networking in the US is paramount to your career success and building those soft skills before, during, and after attaining your degree will put you in a much better footing.