Once you complete your undergraduate course in engineering, you will probably look to have a decent job, but there are high chances that you will push yourself to enroll for a post-graduate course (that's probably the reason you are giving your time to read this).
Whether it is about enhancing your knowledge or experience, having a more settled job with a more decent salary, pursuing a master's degree should always be in your priority list.
There are numerous master's degree you can look after completing your graduation, but if you want to stand tall among others and want to give yourself a great chance of making a good career, Management in Information System can be a unique and excellent option. Before diving deeply in the master's in the management information system, you would want to learn the meaning and concept of an information system.
What is an MS in Management Information System?
In simple words, or commonly used terms, you can say that it is in between the MS and MBA, but as a student of engineering and technology, the definition is not complete at all for you.
The more complete and accurate summarization of MIS program is it teaches you the professionalism and skills how to intersect business and Information Technology together. It means MIS is the proper and fruitful application of Information Technology in different aspects of business and managerial objectives. During your study in Masters in Management Information System, you will acquire fundamental and foundational knowledge of business and its relation with Information System.
The Management of IT is often termed as business function due to its positive and productive impact on the business, and so it is usually offered by various Business Schools and Institutes around the world. Some institutes of Information Studies are also offering the MS in MIS.
Course Structure and Curriculum
In simplified form, MIS is a core business program with elective topics of engineering. Most of the institutes are offering MS in MIS with different course duration from 18 to 24 months with 30 to 40 credit hours of coursework. Some universities also ask students to complete one or two theses during the course.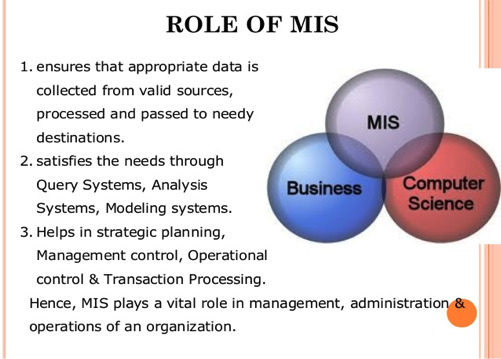 Different universities are offering different course structures, but some common subjects from most of the universities are
Enterprise architecture
Database management
Information Security and Compliance
System Analysis and Design
Data Warehousing
E-commerce and Internet-Based Applications
Project Management
Information System and Governance
Business Intelligence Applications
Business Process Designing
These are some common programs under MS in MIS. You can look for some other suitable programs according to your strength, interests, and prospects.
Before selecting a particular institute, check out the curriculum properly to see if it is suitable for you in every aspect.
Career Options after MIS
You can opt for various career prospects after completing your master's course in Management Information System.
Usually, MIS professionals work to reduce the gap between technology and business. And it is not surprising that MIS professionals are in huge demand in both business and technology fields. An MIS degree from a renowned institute can completely change your life and can give you the ticket to have highly regarding the job you are dreaming for years. You get a rewarding job in both aspects- monetary benefits and job satisfaction.
According to the studies conducted by various global schools, the average annual income of computer and information system managers was between USD 1, 10, 800 to USD 1, 40, 900 in 2017.
Some Popular and Highly Paid Job Options are:
Business analysts are always in demand in the business sectors. As a business analyst, you have to apply your combined knowledge of business and technology to analyze the strategies and planning of the company and check if there is a need to make some changes or modifications. After doing the proper analysis, you will have to offer your assistance to business owners, facilitators, partners, and stakeholders.
Information System Managers:
Information system managers can play a very important role in a company by using their knowledge and experience in computer systems and other related technologies. They are the high-level executive in charges to lead the technological development, research, productivity of the organizations. If you love the leadership roles, being an Information System Manager will be an excellent option for you.
Nowadays, data is a very important part of any business. The success of any business or organization pretty much depends on the proper analysis of data. The collection, procession, and performing statistical analysis are some of the works you will have to do as a data analyst. The demand for data analysts is only going to increase with time.
Did you know that your SOP carries upto 70% weight-age in the admission process? If you want to ensure that you have the highest possible chance of success with your application checkout our
SOP Writing Services
to work with the best experts! Honest prices and delivery guaranteed.
The efficiency of the computer systems is the actual aim of a computer system analyst. As a computer system analyst, you will have to analyze various aspects of the relationship between the business profiles and computer systems. You will have to apply your technical knowledge and experiences to analyze requirements, procedures, and problems in different computer systems. After doing the proper analysis, you will have to perform different functions including automating and improving existing systems, reviewing system capabilities, workflows, and scheduling the limitations. Using proper hardware and software, you can completely change the efficiency of the computer systems in use in business organizations.
Business Application Developer:
Almost every modern company is looking for a skilled and experienced Business Application Developers. As a business application developer, you need to translate the requirements of business software into the workable programming code and to develop suitable programs for business purposes. The complete process includes writing specifications, designing, and building, testing, implementing, and supporting the applications using development tools and programming languages. 
How to Get Admission in MIS Program:
Check if you are Eligible:
Some institutes are offering MIS program to the candidates even without an IT background. But if you have an undergraduate degree in IT or engineering, you can get to one of the top schools with MIS program. If you have one year of working experience, there are high chances of getting special priority.
If you have good GRE or GMAT scores, most of the top institutes will give priority over other students without the score in GRE or GMAT.
A standard language test will keep you in good space. Most of the institutes in U.K are asking students to take a language course like IELTS and TOEFL. The most acceptable score for IELTS is 9 while TOEFL score should be around 30 points. 
High GPA Means High Chances of Making to Top School:
International Business Schools usually measure the academic performance by Grade Point Average (GPA). Check out the standard GPA requirement of the school you are aiming to get in.
Statement of Purpose (SOP) plays a very important role in your admission in MIS. Write proper and complete SOP that includes your educational qualification, abilities, experience, reasons for opting for an MIS program, future goals, etc. Make your SOP authentic and genuine with unique and catchy words. Click the link to know how to make authentic and attractive SOP.
A good informative resume is always important to get admission or a job. It will show your educational qualification, work experience, and extracurricular activities. Never ignore the importance of a proper resume. Make your resume informative and attractive with necessary details in points and bullets. Visit https://www.thebalancecareers.com/how-to-create-a-professional-resume-2063237 to learn how to prepare a sharp, attractive resume.
Get Pieces of Advice from Right People:
When it is about advice, you should go to the right kind of people with knowledge and experience of MIS. Seek advice from someone who can give you proper and authentic advice regarding every aspect of the program. Never be completely dependent on someone's advice. Keep the balance between your inside voice and advice from others.
Top Business and Management Schools for MIS:
Carnegie Mellon University (Heinz College)
University of Arizona (Eller College of Business)
Texas A & M University (Mays Business School)
Indiana University (Kelley School of Business)
Oklahoma State University (Spears School of Business)
University at Buffalo – SUNY (School of Management)
New York University (Stern)
University of California, Berkeley
Syracuse University
University of Maryland
It is all about Masters in Management Information System. Hope you have found the blog helpful and informative enough to make proper decisions. Good luck for your future endeavors from onlinemacha.com