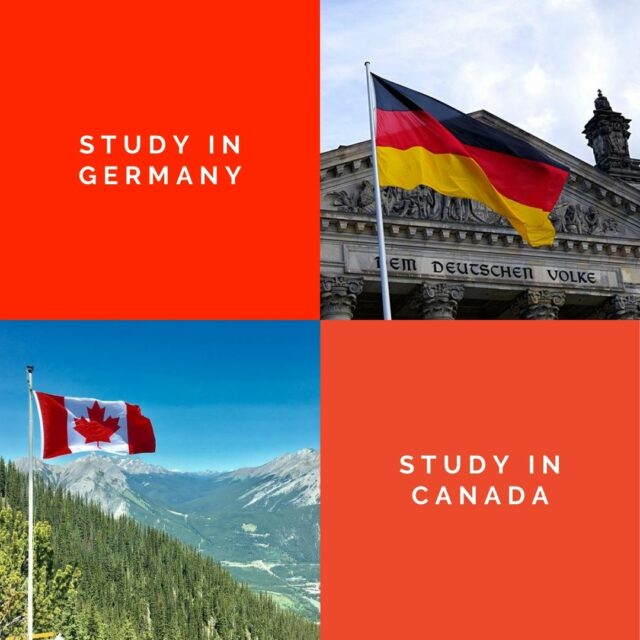 Germany and Canada are among the fastest-growing destinations for international students. Both countries offer great student life experiences and career opportunities and are top-rated destinations for students moving abroad. Let us compare both countries based on factors so that it helps you choose better according to your needs.  
Fees
Fees play a vital role for the majority of students while making choices. The annual average tuition fees for universities in Canada range from around 12,000 to 18,000 CAD. Also, they conduct scholarship programs, but the chances of getting the same are the bare minimum. So, studying in Canada is very expensive.
Germany, on the other hand, promotes free education. The German public universities charge a meager fee or even no fee in some universities. You have to pay a semester contribution of 600 Euros, which makes it a very economical country to study in.
Part-time Jobs
Both the country have the option of part-time work for students for about 20 hours a week. In Canada, the part-time jobs are quite low paying where the minimum wage is around 12 to 13 CAD per hour. Germany offers part-time jobs with a pay range between 9 to 15 Euros. 
Semester System
In Canada, you are evaluated throughout the semester via different assignments and quizzes, which occurs apart from the main exams. Thus, the whole pressure of performance is not on the final exams only but spread throughout the semester via multiple activities.
In contrast, Germany focusses on your final exam for your evaluation. You are expected to perform your best only in the final exams and not throughout the semester via different activities.
Climate
Canada covers five time zones stretching from the Pacific to the Atlantic Ocean. It experienced frigid weather, and many cities have snowfalls for around eight months a year. So there is a kind of snow everywhere for the majority of the year. Even the summers in Canada are pleasantly cool.
Meanwhile, in Germany, the summers are hot, with temperatures ranging between 22 to 35 degrees, while the winters are cold and snowy, with temperatures ranging from -10 to 22 degrees. Since Germany is also a vast country with 16 states and varied landscapes, you cannot generalize the atmospheric climate. One thing which is very unpredictable in Germany is its rains. One moment it is bright and sunny, and the moment it could suddenly start to rain.
Living Cost
Being a student, the cost of living is a significant factor because of a restricted budget. Canada has a high cost of living with expensive accommodation costs, top food, and travel costs. On the other hand, Germany has a cheaper cost of living than Canada and other European states.
Permanent Residency Opportunities
Getting Permanent Residency (PR) in Canada is very easy as compared to most other countries in the world. This is because Canada is a huge country with a very low population, and it has a high demand for skilled employees.
You can apply for your Permanent Visa if you have already completed five years of stay in Germany. You are eligible to apply for German citizenship after you have completed eight years of stay in Germany. However, you can also apply for German citizenship before your eight years have completed, if you marry a German citizen.
Popular studies and Employment opportunities
Canada is prominent for studies in Business Management, Media, Engineering, Nursing, Computer Science, and Hospitality. Similarly, the most popular job vacancies are in the posts of the financial manager, construction manager, teacher, nurse, analyst, etc.
On the other hand, Germany is more renowned for courses like Computer Science Engineering, Chemical Engineering, Civil Engineering, Electrical Engineering, Mechanical Engineering, Physics, Life Sciences. So the job vacancies are more in the fields of mechanical, electrical and automotive industries, telecommunication, information technology, etc.
Did you know that your SOP carries upto 70% weight-age in the admission process? If you want to ensure that you have the highest possible chance of success with your application checkout our
SOP Writing Services
to work with the best experts! Honest prices and delivery guaranteed.
Job Security
In Germany, your employer cannot fire you without giving three written warnings in advance. The culture is more of improving the employees rather than straight away firing. Even if you get fired, the country has a great social support system, where you are eligible to get 60 to 75% of your potential income during the phases of your unemployment. Thus, in bad times, the country makes sure that you are not bankrupt.
However, in Canada, the country assures no such job security. Moreover, with the rising recession, the competition has immensely increased, and employers want their companies' best potential. So there is a higher hiring culture with no such government support as that in Germany.
Every country has its pros and cons. Every person planning to move into another country must be well researched about the factors that might affect his decision in anyways according to personal choices and preferences.