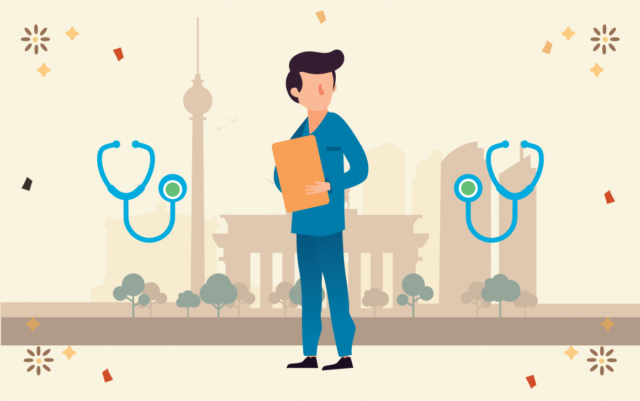 Medicine Program / MBBS / MD in Germany offers a detailed knowledge about various health issues and how to tackle them. The course includes coverage of public health and promoting health, the major determinants of health, health communication and health education, philosophy and ethics of public health, the theory behind the science and methodology, coverage of statistics and epidermiology and qualitative research methods.
The various study courses covered under Medical and Public Health Services Program are:- 
Medicine ( MBBS )
Dentistry
Nursing and Public Health
Pharmacy
Therapy Professionals
Veterinary Medicine
The German medical education system is acclaimed to be the most prestigious and finest medical educational system in the entire world. The standard of education in German Medical Universities is at par with those in the US and UK. In fact, German medical colleges list of top 100 medical colleges across the globe. When it comes to infrastructure and facilities, German medical colleges can be compared with top medical institutes in India like AIIMS. The best part is that studying in these colleges doesn't pinch the pockets of a student from a middle class background because the fee charged by German universities is free of cost. Every German medical university has its own hospitals and other state of the art facilities which are much better than Indian counterparts.
Did you know that your SOP carries upto 70% weight-age in the admission process? If you want to ensure that you have the highest possible chance of success with your application checkout our
SOP Writing Services
to work with the best experts! Honest prices and delivery guaranteed.
Highlights of German Free Medical Education Program:
Standard of Education- The aspiring Indian students can look forward towards studying best and medical programs in Germany.
No Entrance Test- There is no entrance test to get admission in the German medical education program.
Duration of Course- The total duration of medicine program in Germany is 6 years which includes 5 years of the course plus 1 year of internship.
Internship Program- The internship program in Germany allows students to earn Euro 40K to 60K which is around 30 lacs approx.
Latest Curriculum- German universities continue to keep their curriculum updated as per latest advancements in the medical field.
Practical knowledge- Students enrolled in German medical education programs get more practical exposure rather than cramming the theory.
Career Growth- During the course, the students get industry exposure and get an instant placement after completing it. There is, in fact, a lot of scope for getting a job in Germany itself.
Stay Permit- After completing the degree, Germany allows foreign students to stay in the country and practice for almost 2 years or even move to another European country for practicing medicine.
Global Recognition- The degree program awarded by German medical universities is recognized throughout the globe.
Research Prospects- There are a lot of multiple research projects in Germany to work upon. Admission Requirements
For Bachelors Program
Minimum 60% in 12th and cleared 1ST year of Graduation with above 58%. German universities work on the principle of 13 years of basic education and so overseas students have to clear 1st year of their graduation program before applying to German educational programs.
German Language Proficiency. Should have completed A1, A2, B1 and B2 level.
Documents required for Application
Updated Resume
10 photostat copies each of 10th, 12th and BSc. 1st year Marksheet attested by Gazetted Officer.
10 Photographs
10 photostat copies of Passport
2 Recommendation letters
10 photostat copies of School Leaving Certificate
Statement of purpose
Free PG/ Medical Specialization Program in Germany
Anesthesiology
Anatomy
Occupational Medicine
Ophthalmology
Child surgery
Orthopaedics and Traumatology
Consultant Thoracic Surgery
Visceral surgeon
Obstetrics and Gynecology
Ear, nose and throat specialist
language, voice, children's auditory defects
skin and venereal diseases
General medicine
Angiology
Endocrinology and Diabetes
Gastroenterology
Hematology and Oncology
Cardiology
Nephrology
Pneumology
Rheumatology
child and adolescent medicine
child-Endocrinology and Diabetology
Focus Neonatology
Focus NeuroPediatrics
Child and adolescent psychiatry and psychotherapy
Laboratory Medicine
Microbiology, Virology and Infectious Disease Epidemiology
Oral and Maxillofacial Surgery
Neurosurgery
Neurology
Nuclear Medicine
Pathology
Psychiatry and Psychotherapy
Psychosomatic Medicine and Psychotherapy
Radiology
Focus Pediatric Radiology
Focus Neuro Radiology
Forensic Medicine
Radiotherapy
Transfusion Medicine
Urology