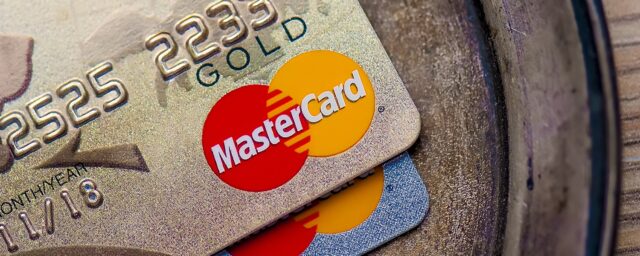 The credit card "Gebuhrenfrei Mastercard Gold", which simply translated into German means "free of charge (or toll-free)" is not only free, but also includes a lot of other advantages such as free foreign usage without any transaction charges, free cash withdrawal, free travel insurance, and up to 7-week interest-free credit period on purchases.
So what is the catch? Like all credit cards, it earns through interest rate on late payments. So, as long as you are financially prudent and stick to the repayment deadline, it is the best free credit card you can get. In addition, customers benefit from free travel insurance.
Read below for the more details on the bank, application process and how to best use the credit card
About Advanzia Bank
The Advanzia credit card is provided by Advanzia bank S.A.
Based in Luxembourg since 2005, Advanzia Bank SA has a banking license in Luxembourg and offers a free Advanzia credit card for residents in Germany, Austria, France and Luxembourg. The bank has about 1.2 million active Advanzia bank credit card customers.
Who can apply?
The requirements to apply for the Mastercard Gold card is only a residence address in Germany (Austria or France). Therefore, you can apply for this Advanzia credit card, irrespective of if you are employed, self-employed, unemployed or you are a student. This also includes expats and foreign students even if you have not lived in Germany for a long time can apply for this credit card.
This makes it a perfect credit card for newcomers to Germany, including students. Although the credit limit might not be very high at the beginning, you can quickly build your credit history and get a higher credit limit in a few months. Furthermore, you can enjoy all the benefits of being a Mastercard Gold card customer.
No PostIdent or In-Person verification necessary
As long as you have an address in Germany and a personal bank account, you can get a credit card without the need for doing a PostIdent procedure.
Advanzia bank will send you the credit card to your German address which verifies your address, and you will have to pay your credit card bill using your bank account, which proves your identity. Therefore, it does not require a full identification process such as PostIdent. This is especially useful for citizens whose passport are not accepted for PostIdent (e.g., Indian Passport).
Did you know that your SOP carries upto 70% weight-age in the admission process? If you want to ensure that you have the highest possible chance of success with your application checkout our
SOP Writing Services
to work with the best experts! Honest prices and delivery guaranteed.
Features at Glance
Zero Annual maintenance fees (Permanently free)
Zero Foreign transaction fees – Free use Worldwide
No PostIdent necessary
Free cash withdrawals worldwide*
Up to 7 weeks interest-free credit period
Free request for a replacement card, PIN or card blocking
Rental Car Discounts from Sixt and Alamo
Free Comprehensive travel insurance included
Personal customer service around the clock, seven days a week
5% cash back on booking travel tickets with free Mastercard Gold on their travel portal with a guaranteed lowest price
Also for self-employed, students, pensioners and unemployed
Sign up using our Promo Code: KX0ESBXO708D6CDF and avail EUR 40 as welcome gift.
How to best use the credit card
Keep a track of your billing cycles and pay the bills on time. We have provided an easy illustration to explain the billing cycles and when interest payments are charged.
Billing Cycle Explained:
Billing cycle of Advanzia Mastercard Gold credit card starts from 3rd of each month and ends the 2nd of the next month, and the deadline to pay each billing cycle month is the 20th of next month, and so on.
Interest Free Deadline:
When making a purchase, such as an airline ticket or eating out during the billing cycle, it is included in the statement and due on the 20th of the next month. So depending on when you make your card purchase, you will have between 20 days and 47 days interest-free period to make the payment.
Payments:
The Credit Card Bill is generated on the 3rd of each month and you will have to pay by the deadline of 20th of each month.
You will get your credit card bill by email. You can also check it on your online account.
You will have to actively make a transfer each month from your bank account to the Advanzia Credit Card account.
It is not automatically deducted from your bank account. So, do not forget to make a transfer on time. To be safe, make an online transfer two working days before the deadline to avoid any interest charges.
You cannot have a credit balance (i.e., deposit more money than you have to pay). That means you cannot keep your account in a positive with a credit balance on your credit card account. Deposits that exceed the card balance may be rejected. But you can make partial payments during the course of the period.
Therefore, be a prudent user of the credit card and benefit from all the features of the free Mastercard Gold credit card.
How to Apply
Here are the steps in detail to apply and activate your Advanzia free Mastercard Gold credit card.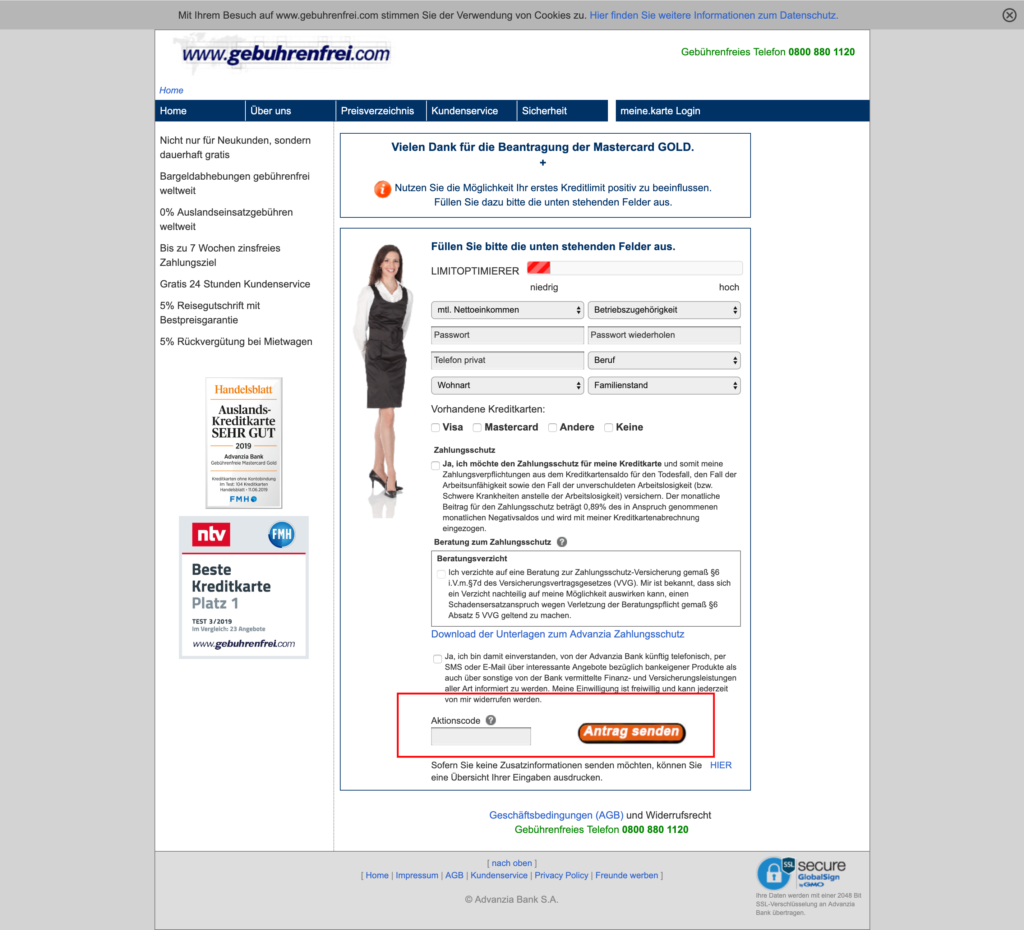 Open the Online Application
Enter your personal details on the first page, including your Name, address, Nationality and Date of Birth. See below for the translations. Once you enter your personal details, click on the button highlighted as "JA, ich will" .
Provide your details to Optimizing you Credit Limit. These details will be used to determine your credit card limit. So, provide correct information about your income and profession. You can also leave this empty and a lower limit will be automatically allocated to you.
Enter our PROMO CODE: KX0ESBXO708D6CDF in the field "Aktionscode" to avail the welcome bonus. If you're unsure where to enter the code, please refer to the highlighted box in the picture above.
Click Apply. Once you have completed the form, click "Antrag Senden".
On accepting your application, you'll receive a welcome email.
Within 2-3 weeks from the time of application, you'll receive the Free Mastercard Gold, activation details and contract agreement.
Sign the agreement and post it to the address mentioned in the correspondence.
Upon agreement confirmation from the Bank, you'll shortly receive the PIN separately by post using which you can withdraw from any ATM for free.
FAQ on Free Mastercard Gold
What is this welcome bonus?
Advanzia Gebuhrenfrei offers welcome bonus of EUR 40 for new customers using the PROMO CODE: KX0ESBXO708D6CDF during the sign up process.
New customers are persons who apply for the first time for a free Mastercard GOLD from 15.07.2019 – 30.09.2019 and use them at least once until 31.10.2019 for payment.
When and how will you get welcome bonus?
If you've applied for a credit with our PROMO CODE, the bonus will automatically be credited to your credit card statement. Please make sure you've used the card for payment at least once within the first 10 days upon card activation.
Is the Welcome Bonus offered by Onlinemacha.com?
No, the welcome bonus scheme is solely offered by Advanzia Bank. Onlinemacha.com only offers a referral code for bonus benefits. We (Onlinemacha.com), hold no responsibility if the bonus is not paid or if the bonus amount has changed than the one mentioned above.
We try our best to make sure the PROMO CODE and the bonus value mentioned is true to the latest update. We recommend you contact us in advance to receive recent information regarding the promo code and bonus value.
When and how will you know your credit limit?
Your personal credit limit will be provided for the first time together with your PIN. Also, this will be displayed on each of the credit card statements.
How is the credit limit set?
Your credit limit is based on your personal information that you specified in the request and set (if resident in Germany) based on the data provided by the Schufa / CEG or other agencies. If there are any changes to your personal information, please inform Advanzia Bank in writing.
How to increase the credit limit?
The credit limit may be somewhat lower at the beginning until the bank checks the payment pattern and customer relationship. However, after a few months if regular payments have been noted your credit limit may be increased.

Another reason for a low credit limit may be missing or incomplete information during the application process. If you have entered incomplete data and incorrect personal data (occupational group, marital status, etc.), you can update Advanzia Bank by e-mail or letter to update your data.
What is the Daily credit limit
You can make a maximum of 5 ATMs withdrawals within your credit limit or up to a maximum of € 1,000 a day.
How can you reduce your credit limit?
If you want to reduce your credit limit for safety or personal reasons, you can contact Advanzia Bank in writing (letter, e-mail) to adjust the credit limit.
How to check your Advanzia Credit Card bill?
You will receive your Credit card bill by e-mail on the 3rd of each month. If you have not received then check your spam messages. Alternatively, you can login to the online account anytime and also check your credit card statement online.
Can you pay using automatic debit order?
No, Advanzia bank does not allow automatic debit authorization of your credit card from your bank account. Since they offer the option of partial payments, Advanzia bank does not collect the invoice amount by direct debit from your account.

This keeps you flexible and allows you to decide for yourself how much you want to transfer each month. But always remember to pay your credit card bill on time.
How to pay Advanzia credit card bill?
You will have to make a manual transfer each month from your bank account to your credit card account. The IBAN number where you should transfer is mentioned on your credit card bill.

It is like a regular money transfer to a bank account. Just enter the IBAN details of Advanzia bank (personal for your credit card account) and transfer the due amount before the 20th of the month.

It is important that you transfer the money from your own bank account. If you do not use your own bank account, you will have to make a full identification, eg by means of the PostIdent procedure, due to the Luxembourg anti-money laundering regulations.

If you have sent us a copy of the ID card and at least one deposit has been made from your own account, the further transfers can also be made from a third party account.

The PostIdent procedure applies if you do not have your own account to use for the transfer.
Can you make deposits in between?
Yes, you can make deposits in between and before the due date, either in full or in part.

This is especially useful if you have a lower credit limit. By making a payment before time, you can make more purchases using your credit card. For example, your credit limit is €1000, and you buy a flight ticket for €800. You can immediately make the payment of €800 so that you can continue to utilize the full credit limit again within the same month.
When is the free travel insurance valid?
If you have paid at least 50% of the total travel costs with an approved transport company with the Free Mastercard Gold and all other requirements are met by the insurance conditions shall automatically apply the protection of our free travel insurance. The cardholder and up to 3 other fellow passengers are insured for a period from 2 to 90 days.
What does the free travel insurance include?
The insurance benefits of the free Mastercard Gold include the following main features:
– Up to 3 other passengers
– Valid from 2 to 90 days
– Travel Liability Insurance: per incident up to € 350,000
– Foreign Travel Health Insurance: up to € 1,000,000 including dental expenses
– Travel Accident Insurance: Up to € 40,000
– Travel cancellation insurance: deductible of € 100
– Luggage Insurance: up to € 2,500 for one person, up to € 3,000 total for a journey of several persons
– Travel Accident Insurance
– Deductible for treatment costs in the EU after an accident: € 185
For whom travel insurance is valid?
The insurance is valid for the credit card holder and their partners, children under 23 years who are resident at the same address or, if they live at their place of study, are supported financially by the cardholder. The insurance is also valid for your children (also adopted or foster children), although they live at a different address, but have previously lived with the cardholder.

The insurance is also valid for up to 3 passengers travelling together. If the number of passengers is greater than 3, the youngest three are insured. This insurance also covers the passengers if they have the same itinerary, duration and stops similar to the cardholder.

If family members and travelling companions accompany the cardholder on the trip, so the insurance company first applies to the family members.

Age restriction:
Over 67 years – reduced the maximum sum insured for accident insurance
Over 70 years – reduced maximum duration to 21 days
Over 75 years – No cancellation insurance
Over 75 years – No travel medical insurance
Do I have to pay ATM fees if I withdraw cash?
Gold Mastercard is free of charge both for purchases and for cash withdrawals. In some cases, other banks ATM'S charge a small processing fee for using a foreign card.

This fee may amount to EUR 2-5 per-cash transaction. In these cases, Advanzia Bank SA does not refund these fees since these processing fees are not incurred by them or sent to them.

Warning: Even though it is free to withdraw, the interest is charged from the first day.
How can I avoid the processing fee by other banks for cash withdrawals?
The machines operated by banks are obligated to inform the cardholder of the handling fee at the ATM, and the cardholder must agree to this charge BEFORE the cash withdrawal – otherwise, this transaction does not take place. If you notice that the banks require such processing fees, we suggest you try another bank ATM's.

In unavoidable circumstances, you can try to keep the number of cash withdrawals low. These fees are charged per transaction/cash withdrawal and this regardless of the draw. Thus, it is advisable to withdraw more money per cash withdrawal and therefore less often to go to the ATM.
Is there a right of withdrawal?
You may revoke your contractual declaration within 14 days in writing without giving reasons. The revocation period begins from the rate of receipt of your card (which is considered as the completion of the contract).

The revocation request must be sent to, Advanzia Bank SA, PO Box 4108, D-54231 Trier.

You can cancel the Card at any time.
How to cancel the Free Mastercard Gold?
The contract may be terminated by you at any time without notice and without giving reasons.

If you wish to cancel your credit card agreement, please send a message (e-mail, letter) concerning the termination of your wish or send us your credit card (cut) with a covering note back.
You will receive a written confirmation of the cancellation from Advanzia Bank SA.
What are the Discounts on Rental Cars
Sixt Rent a Car: You get up to 10% discount on your Sixt Rent a Car Booking worldwide when paying with if you pay with your Free Mastercard Gold. The discount also applies to the cheap internet tariffs.

Alamo: You get up to 20% off at over 330 Alamo locations in the U.S. and Canada when booking with your Free Mastercard Gold.