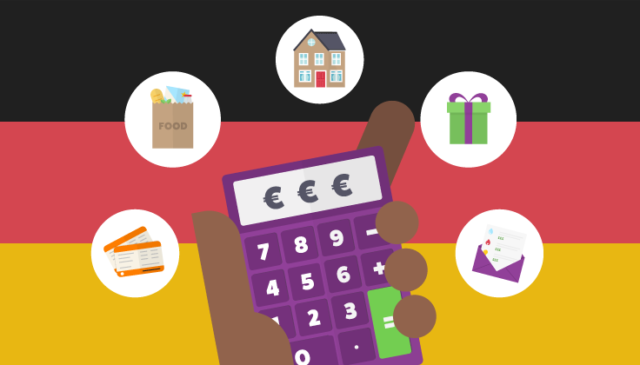 Useful Packing List for Germany. Almost everything needed is mentioned..
Primary list
Valid passport with your student visa
Air ticket
Admission letter from the university
All financial documentation you will require to submit to the university or immigration authorities.
All original certificates and other important documents
Traveller's cheques and sufficient cash
Photos – 20 Copies in different sizes
Detailed directions to your university or accommodations
Details of contacts (Family friends, Seniors, Personal Friends)
 Food Items:
Spices (Red chilli, Turmeric, Coriander powder etc)
Masalas (Sambhar masala, Rasam masala etc)
Asafoetida
Pickle
Ghee
Jaggery
Tamarind
Papad, Appalam
Rice & other food items (For the initial few days till u settle down)
Ready to eat packs
Utensils:
Pressure cooker
Spare gaskets & safety valves
Electric Rice cooker
Utensils
Mixer (Not a must)
Pan (For roasting chapatti)
Roller (For rolling chapatti)
Vegetable cutter (It makes the job easier but optional)
Toiletries & Medicines
First aid box
Prescribed Medicines
General Medicines
Tooth paste
Tooth brush
Bathing soap
Washing soap
Hair oil/Gel
Comb
Shampoo
Lip guard
Cold cream
Scissor
Nail clipper
Shaving kit
Cotton
Dettol
Iodex
Zandu balm
Vicks & Inhaler
Band aids
Miscellaneous:
Pocket Size Dictionary (German To English & English To German)
Photos of deities
Needle & Sewing thread
Buttons & Hooks
Small Umbrella optional
Some Books for reading
Get a good haircut. Haircuts here cost around € 10 a pop
Take a crash course in driving(Indian driving licence is valid up to a period of six months from the date of your arrival.
Get your medical exam done. Check your eyesight and visit your dentist.
Specks With Box – ( 1 Spare) if needed
Reading glass prescription if any
Brief Case
Hand Bag
Bed Sheet
Small Lock & Key
Shoulder College Bag (medium size)
Clothes & Accessories:
Jacket
Sweater
Thermals
Neck Shawl
Woollen Socks & Gloves
Formal & casual clothes/dresses
Shorts & Night wear
Inner wears
Bath Towel
Small Hand Towel
Hand Kerchiefs
Shoe Polish with Brush
Formal Suit with tie
Formal Shoe
Sports Shoe
Socks
Bathroom Slippers
Wrist Watch & Wallet
Belt
Travel waist pouch
National attire. There will be occasions where you might need to or might like to wear traditional attire, so pack a set or two.
Electronics:
Laptop with complete accessories if any
Music player
Digital camera
Electrical converter (See image below)
Scientific Calculator
Mobile, Charger, Ear Phones
Software CDs
Entertainment CDs
 Electrical Converter, Electrical SocketHand Luggage.
How Many?
Passengers are now permitted to carry more than one item of hand luggage through security. You will, however, need to check with your airline before arrival at the airport. Some airlines will only allow you to carry one item of hand baggage, and the weight and size allowances differ between airlines.
How Much?
Cabin baggage must be no bigger, including wheels, handles and any side pockets, than:
 56 centimetres tall (22 inches)
 45 centimetres wide (17.7 inches)
 25 centimetres deep (10 inches)
Check with your airline as some have further restrictions on the size of bags.
What's Allowed?
All items of luggage which do not fit in the permitted cabin baggage size must be checked in to be placed in the aircraft hold.
Musical instruments which do not fit in the permitted cabin baggage size are allowed as a second item of cabin baggage; they will need to be screened and passengers should check with their airlines if special arrangements (e.g. purchasing an extra seat) for these large instruments will be required.
Laptops will need to be removed from your bag at Airport and screened separately in the trays Provided.
Pushchairs, walking aids and wheelchairs are permitted but will be screened.
Liquids
Some liquids (e.g. gels, lotions, pastes, liquid cosmetics, foams and other liquid-based items) are now allowed through airport security check points. The following restrictions apply to the quantity of liquids:
Liquids may only be carried in containers no greater than 100ml. These containers must be brought to the airport contained in a single, transparent, re-sealable plastic bag, which itself must not exceed 1 litre in capacity (approximately 20cm x 20cm).
The contents of the plastic bag must fit comfortably and the bag must be sealed.
Each passenger may carry only one such bag of liquids. The bag must be presented for examination.
Liquids that cannot be placed inside the re-sealable bag must be packed into the hold luggage and checked in. Liquids of any amount can still be carried in luggage checked into the aircraft hold.
Please note 'Liquids' include:
 All drinks, including water, soup, syrups
Creams, lotions, oils, perfumes, lip gloss or lip balms, mascara etc.
Sprays and pressurized containers including shaving foam and spray deodorants
Pastes, including toothpastes
Gels, including hair and shower gel
 Any other solutions and items of similar consistency
There are two exceptions to the above rules:
 Baby food needed during the flight;
Medicines needed during the flight.
You should always check the exact hand luggage restrictions with your airline prior to packing.
Checked-in baggage:
Following Articles not accepted in checked-in baggage:
Cash, Securities
Jewellery, precious metal, precious and semi-precious stones
Computer, camera, Video camera, Cellular phone and any other electronic or technical appliances and their accessories
 Official, Business or Private documents
 Travel or other identity documents
 Keys
 Liquid (except: acid battery of a wheel chair)
 Medicine
Pieces of art and fine arts
Perishable items
Prohibited Items
Scissors
Razor blades
 Knives with blades of any length
 Household cutlery
 Tools
 Knitting needles
Replica guns (metal or plastic)