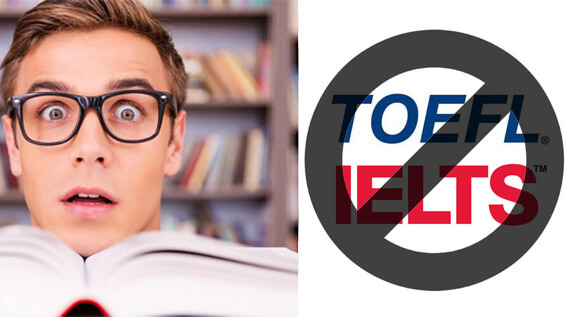 If you are planning to study in Germany, you should know that IELTS/TOEFL is one of the major criteria for admission in most of the universities. However, some universities offer admission even without IELTS or TOEFL or any other language proficiency exam scores. This article discusses how you can get admission in a few German universities without IELTS or TOEFL. Let's know, how:
1. Check the admission requirements of the universities
While you should be aiming to apply to more than one university for enhancing your chances of getting admission, you will have to do a little extra research on the universities that offer admission on the language of instruction certificate. It is not easy to search for such universities, but you need to put some efforts. Maybe you find a university in which you can get admission without any language proficiency exam!
This way, you don't have to spend your money on IELTS or TOEFL or similar language proficiency test.
Do a little research on universities offering admission on the medium of instruction certificate. To do so, visit the 'admission requirements' section and look for the details on the language proficiency exam. Note that the admission requirements may also vary from course to course in the same university! So, check out everything properly. 
These Are A Few Universities Allow You To Get Admission Without IELTS/TOEFL Score:
Hochschule Esslingen University of Applied Sciences
Universitat KOBLENZ, LANDAC (University of Koblenz)
Technische Universitat Braunschweig (Technical University of Braunschweig
2. Letter From The German University Stating That Medium Of Instruction Has Been Accepted And You Don't Need To Give IELTS Or TOEFL
You can also get a letter from the university that you are exempted from taking IELTS or TOEFL because your undergraduate was in English.
You can ask the university to write, or your university will mention itself that: Students who pursued undergraduate in English don't require IELTS/TOEFL or any other language proficiency test.
3. Ask Your Undergraduate University To Give Medium Of Instruction Certificate
You can (you should) ask your undergraduate university to give the medium of instruction certificate or an official letter from the university stating that your medium of instruction during undergraduate was English.
Submit The Medium Of Instruction Certificate Or University Letter To The Embassy While Applying For Visa
Make sure that the consulate where you are going to apply for VISA accepts the medium of instruction certificate because most of them do.
Both Delhi and Mumbai German Consulates allow you to apply for the VISA with the medium of instruction certificate.
You should have something in writing from the university that there is no requirement for an English proficiency test score. Take the print-out of the email you have received from the university and submit it with other documents required for visa application.
You may have to submit the following documents in addition to the others:
The medium of Instruction Certificate (MOI) from your undergraduate university.
Germany university's information letter.
Email from the consulate (not necessary always).
Around 80% of the universities in Germany ask for IELTS or TOEFL or similar language proficiency certificate. You can look for the remaining 20% of universities not asking for the language proficiency test and can still study in Germany if you have the medium of instruction certificate.
Did you know that your SOP carries upto 70% weight-age in the admission process? If you want to ensure that you have the highest possible chance of success with your application checkout our
SOP Writing Services
to work with the best experts! Honest prices and delivery guaranteed.