Discuss anything related to studying abroad, share your experiences, get help from seniors and voice your opinions. The platform is run by expats, current and ex-students who have studied abroad. Unlike regular Facebook groups, we will ensure that the discussions are clean, informative and search friendly. Hop on to join or start a discussion. With Onlinemacha account or as a guest, you can reply to an existing discussion or start your own. You can also choose to follow a discussion, which means you'll be notified by email when there are new replies to that discussion.
German Grade Calculator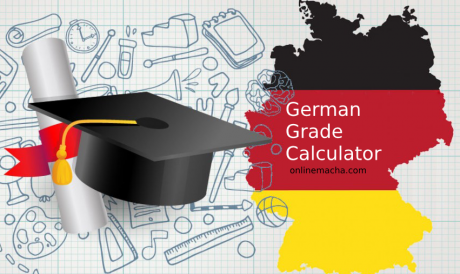 Wanted to know German grade scale equivalent for your academic score? Tired of seeing huge formulas on other websites to get it converted? Well, here's our very own German Grade Calculator. Simple and ease to use. Don't forget to share it with your friends. Let everyone else benefit from this free tool. Highest obtainable Grade(Ex : 100% or 10 CGPA) : Grade in Bachelors/Master (Your Percentage or CGPA) : Minimum…
This topic was modified 1 year ago 15 times by
Team Macha
I'm currently in my 3rd year of BTech Mechanical Studies with 2.29 german grade equivalent with 1-2 month industry internships and few projects, do I need a formal work experience to apply for Masters in Systems Engineering or Mechatronics, does work experience increase your chances of getting selected?
i actually wanted to complete my mbbs bchelors from the Hiedelberg university.........
can u pls tell me the grade according to the german.......to achieve a seat in that university.........
This post was modified 11 months ago by
Team Macha
hi sir, i am nirav malaviya. i have completed my B.C.A in april 2019. i got 8.9 out 10 cgpa. In german grade 1.51 and i got 5.5 in ielts exam.can i apply in german public universities ? please guide me.
i want to apply in master computer science or information technology
September 18, 2019 8:43 am
Hi sir,
I am shyam, complete my B. Tech in mechanical from Symbiosis international university with 2.8/4.00 cgpa. Also I have Master degree in Industrial Automation with 9.00/10 cgpa. I do have 2 years experience in industrial automation and control. Ielts- 6.5 and German language- A2. B1 is pursuing. Preferd course is mechatronic and robotic or Automation and control. How is the chance for getting admit?
My 10th percentile is : 91.09%
My 12th percentile is : 65%
My BE percentile is : 65%
according to the german grade i have : 2.74
Ielts : 7.5
I am willing to apply for Masters course in Artificial Intelligence or Embedded Engineering or any course related to Electrical engineering or Electronics Engineering.
Which universities would you suggest?
So, i have passed my 10th and 12th with distinction but in bachelors of management studies i.e. BMS i scored 49% which is approx 3.35 according to German grading system. I want to pursue ms finance in Germany which universities should i apply and i am eligible for ?
@supriya Sadly, 3.35 in german scale is low for many public universities.However you can apply to private ones
Is this grade calculator works for the USA?
My German grade is 2.118. what are the chances of getting into a public university.
Hi, I'm looking for doing my undergraduate and post-graduation from Germany.
My profile is 1Year university completed with CGPA of 2.46 out of 4.00 which in german great 3.31. IELTS 5.5overall ( R5.5,W5.5,L5.5,S5.5) And now completing A1.0 German language course. Could you please suggest me some public university to apply for This winter intake (MY study background is Business Studies) So I'm looking for the subjects like ( Business related any king of subjects or Social science, Political Science, etc.)